Yesterday was the funeral of D. Gary Young. I never met the man. But his impact on my life has been, well, what is a word that is the opposite of traumatic? all encompassing, in a good way? So hearing the stories of his life from the perspective of people who did get to know and grow close to Gary over time was an amazing experience in itself. He was truly a genuine human being. In love with life, and people, and this singular Earth. The company he founded is a gift to me, because it's given me the stuff of life to help me stay well, on all levels.  He was an incredible teacher and definitely a lover of all of life.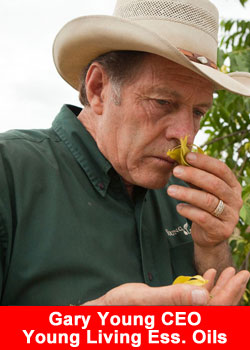 Simulcast funeral attendance – having done that for presidents and royalty and popes is one thing. But to watch the passing of someone having such a personal impact on my life was just like being there…so I honored the almost 3-hours and participated as if I were in the audience. Not sure how many were actually at the farm, but online it was said about 100,000 people focused their eyes on the proceedings. I stood when they were asked to stand, sang in my head when that was done.
   I feel a deep connection to the reality this one man envisioned and then with the help of his wife and team gifted to our world by showing us how to embody a wholesome life style, to use the raw earth and the abundant plant life to sustain ourselves. Could he have imagined that in just 25 yrs there'd be 16 farms around the world and over 500 products? Or that the pioneering research he began in the 90's would result in his being labeled the founder of modern day aromatherapy? I didn't know that before him, essential oils were only used in their basic diluted and chemical-laden form for the perfume industry. Hearing the story from the Frenchman with whom it all began, well I was riveted to the screen at that point.
Gary Young was a man of God and in relationship with everyone he met. He seemed to draw every breath in gratitude, at least that was my interpretation while listening to the speeches yesterday. He lived with this motto: Wellness, Purpose, Abundance.  It has been modeled on all levels, for and with everyone.  And just thinking about it reminds me once again, what are we here for? And how can we make a difference? How do we say thank you to the world ~ by giving of our time and money to an organization such as the Young Living Foundation that builds relationships and creates peace? or in some very unique way that we will call our own as we step out on a new platform?.
Just one man. Yep, and a 'cowboy' at that according to his many friends. And yet a pioneer…and maybe even a giant.   
Grateful? Yes, I Am.